The quality, excellence and credibility of the processes and services we offer daily to our customers have been validated and ratified by the recognition granted by the ISO 20000 certificate and quality seal: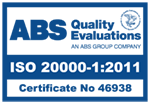 This international recognition for IT services management is given to companies in the sector that have the appropriate procedures and controls to provide a quality service.
Our organisation's clear vocation in high-quality service, together with client satisfaction, make IST Medical the benchmark in our sector.
ISO 20000 is an international standard for the management of IT services. For IST Medical and our customers, technology is key to business. Its effective application ensures that services are aligned with business requirements and that these can be provided at a reasonable cost.